Why Lovepac
In response to evolving market demand for simple yet innovative custom corrugated and foam packaging solutions, the Lovepac team draws on our company's deeply rooted commitment to quality and service to reveal an exciting vision for tomorrow's protective packaging market: Making the world a better place through collaborative customer relationships, and backing that promise with the highest levels of product value, quality and support.We have a vision for going beyond the traditional packaging manufacturing models to paint a bigger big picture of innovative and interactive customer experiences.
In 2001, we started something special here at Lovepac. We fully intend to successfully continue doing what we do best—every day or our lives, and with succeeding generations.
Find out more about how Lovepac puts the "love" in every custom box and protective foam packaging solution with our unique CorrMethod™ approach.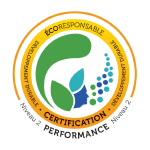 We are now certified Ecocert Ecoresponsable Level 2 for our commitment and continuous improvement of our social and environmental performance aimed at sustainability.