Customized any way you want
Lovepac is proud to be an official Nanuk distributor throughout North America. Nanuk cases have been around for more than 40 years because they are tough, durable and virtually unbreakable! Being a manufacturer of protective packaging allows us to offer our clients unique customization of any Nanuk case available. We can adapt just about anything you need for these cases plus meet any military, aviation, and transportation requirements you may have. We work with polyethylene, polyurethane, cross link and a compilation of all these foams to create the custom design you need. Contact our customer service department or our corrdesign team to discuss your custom project.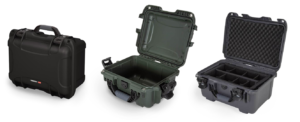 Nanuk cases capture what we do best: taking a high quality product like the Nanuk case and customizing it to protect what is valuable to you. Nanuk cases are robust, attractive cases that will protect your products for a lifetime.